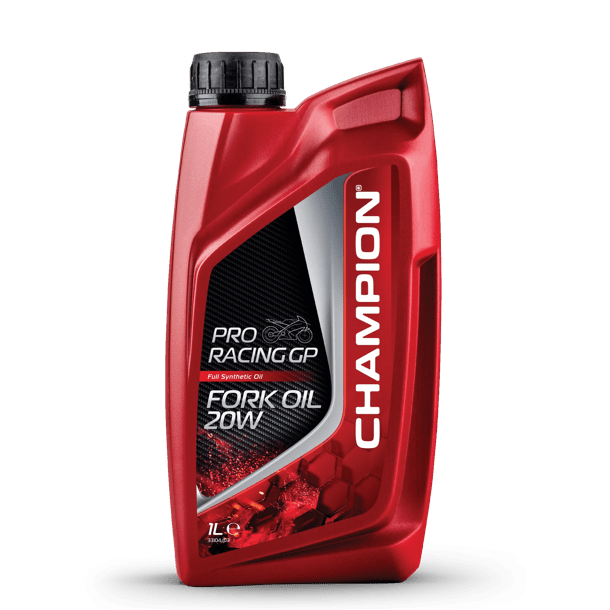 CHAMPION

PRORACING GP

FORK OIL 20W
This advanced synthetic blend transmission oil for motorcycles has a very high viscosity index. The oil's excellent viscosity at low temperatures guarantees quick protection of all gears.
Product: 4664
Check your vehicle compatibility for more information
Type in your brand and model
Meets Industry Specifications
Description
This 20W synthetic blend fork oil has an extremely high viscosity index, offering optimal dampening control over a wide range of temperatures. Furthermore, this lubricant extends the service life of your motorcycle by combining quick air release and elastomer compatibility with anti-corrosion and anti-wear properties.
Applications
This fork oil is specifically developed for universal usage in forks and dampers of bikes and mopeds. It is suitable for on- and off-road conditions. The choice between the different fork oil grades is to be made according to ambient temperatures, riding patterns and dampening effect. Please follow the manufacturer's instructions.
Performance
This fork oil helps you achieve your desired level of riding comfort, riding performance and component protection.
| Test | Method | Unit | Average Results |
| --- | --- | --- | --- |
| Density at 15°C | ASTM D4052 | g/ml | 0.857 |
| Kinematic viscosity at 40°C | ASTM D445 | mm²/s | 62 |
| Kinematic viscosity at 100°C | ASTM D445 | mm²/s | 12.1 |
| Viscosity index | ASTM D2270 | | 196 |
| Pour point | ASTM D6892 | °C | -48 |
| Colour | VISUAL | | |
We reserve the right to alter the general characteristics of our products in order to let our customers benefit of the latest technical evolutions.